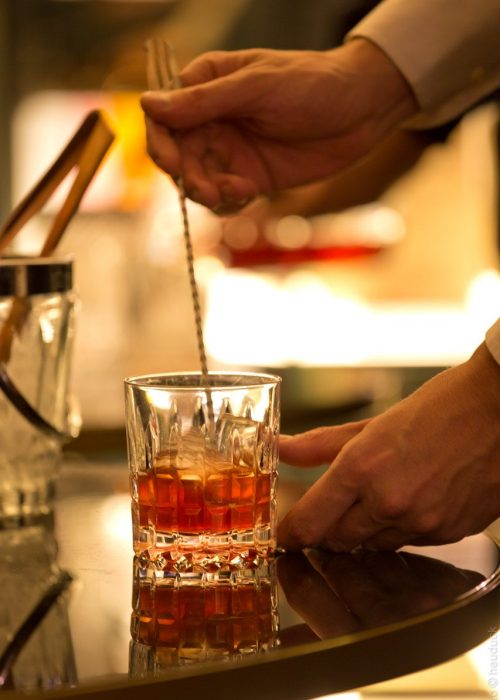 Allow me to introduce myself. I am LE BARTELEUR, your imaginary home barman.
I have used my expertise to come up with 5 excellent cocktails for you, in tribute to the great classics, perfectly measured and ready to be enjoyed with only a few beautiful ice cubes. 
Keen to please you, I have paid special attention when selecting all my natural ingredients, to offer you cocktails worthy of the greatest bartenders.
My inventive spirit has given the original recipes a subtle twist to provide each one with a unique touch which will surprise the most discerning palates.
My elixirs can be stored as needed. This means you can enjoy them whenever you so wish. I remain at your disposal, to meet your desires. Ask your friends to share me on your favourite playlist as I love the pleasures of life and good company.
Find out more about my secrets by continuing to browse, Enjoy.

Lulled by her Mexican heritage in the mundane dinners organized for her husband, a wealthy businessman, the American Margarita Sames has bequeathed her name to her creation, a fresh and refreshing blend served to her guests. In her Acapulco home, the most tropical of cocktails was born for eternity.
LE BARTELEUR pays homage to the most popular Mexican cocktail that once seduced travelers from all over the world who came to dream on the shores of the Pacific Ocean. Guided by his intuition, he adds grapefruit to lime, combining its acidity with fruity notes. A real fresh and vitaminized concentrate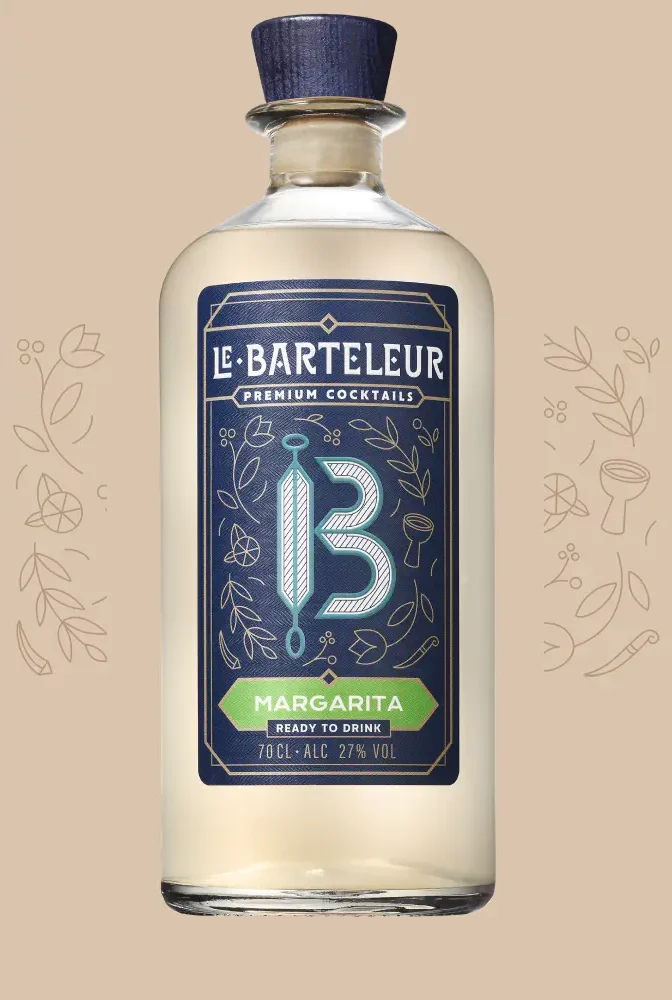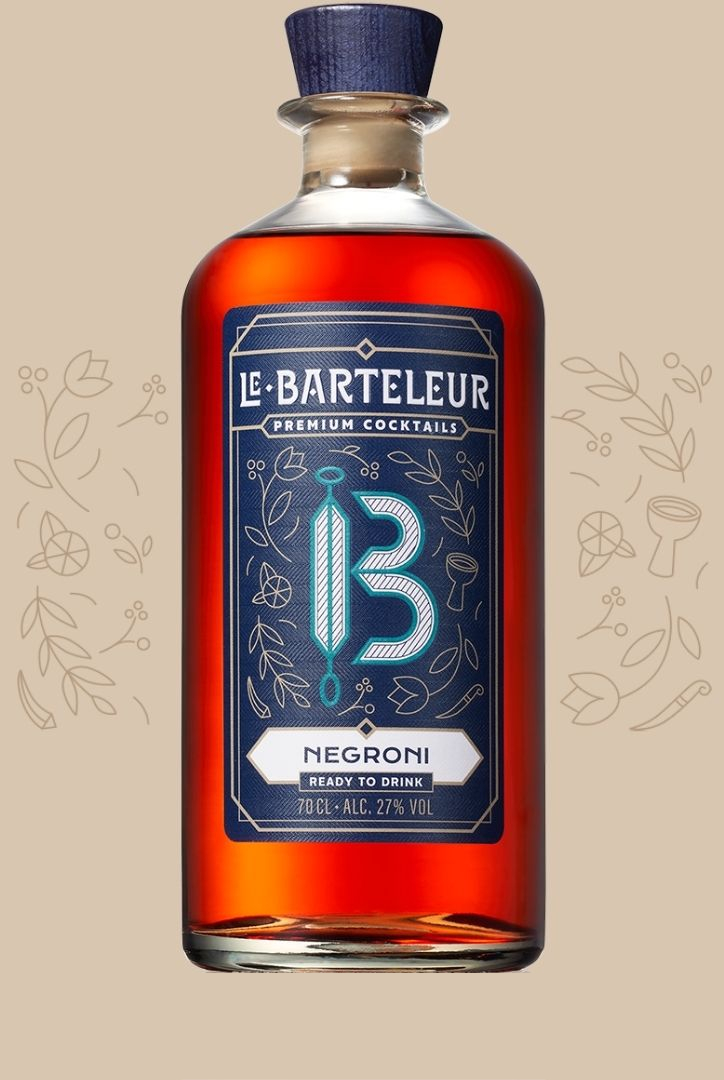 Florentine in heritage. Named after an Italian count who was a frequent visitor to the Café Casoni and was accustomed to drinking his Americano there.
In memory of trips to London, he asked the barman to add an extra measure of gin. The Negroni was born and has enjoyed global popularity ever since.
I pay tribute to this iconic drink which charmed the Florentine aristocracy a hundred years earlier. From its love for nature, it adds a personal touch through unique aromatic plants with bitter, refreshing and scented notes.
The secret of its freshness is at the heart of French gin, in fennel seeds, caraway, dill and angelica. In discreetly bitter orange which melts into the dry vermouth.

Inspired by the Vodka Martini from which it is derived, the Espresso Martini was shaken for the first time in London's Soho Brasserie. Its creator Dick Bradsell is said to have been inspired by the coffee machine located next to the station where he served drinks and perhaps even by a supermodel wanting a cocktail that would wake her up. A win-win outcome!
LE BARTELEUR pays tribute to this signature cocktail of 1980s London that has become a modern classic. Expanding on variations of the martini, it gives the full-bodied hit of delicate chocolate to the black coffee, thereby keeping in line with its iconic bittersweet taste. Make that a single or a double?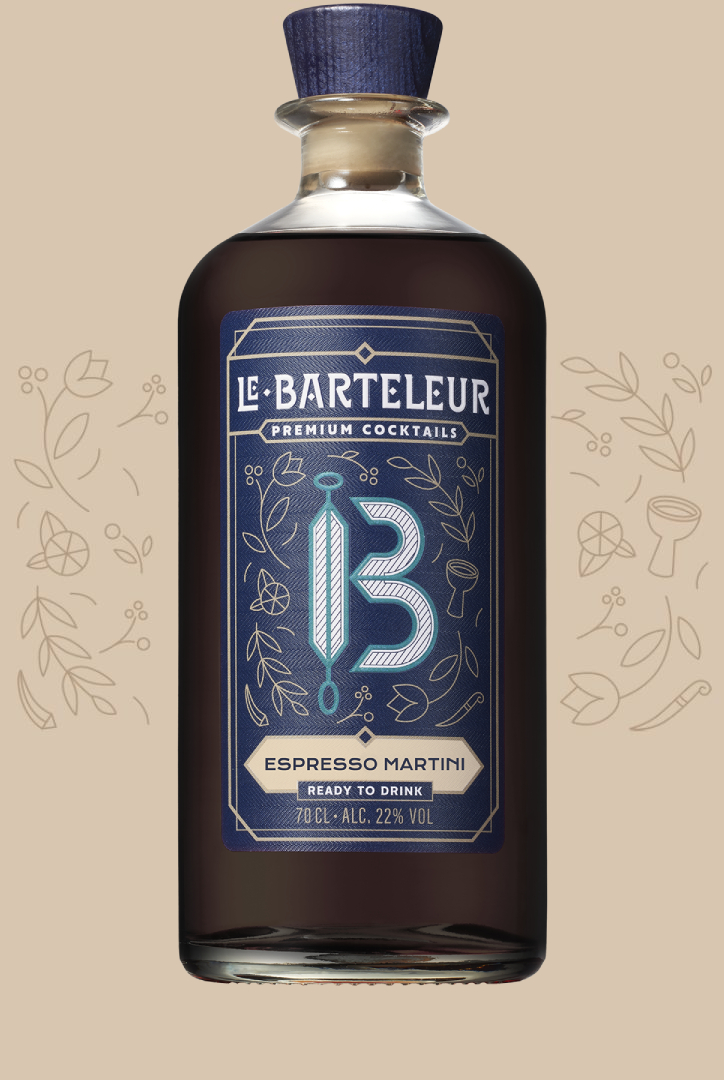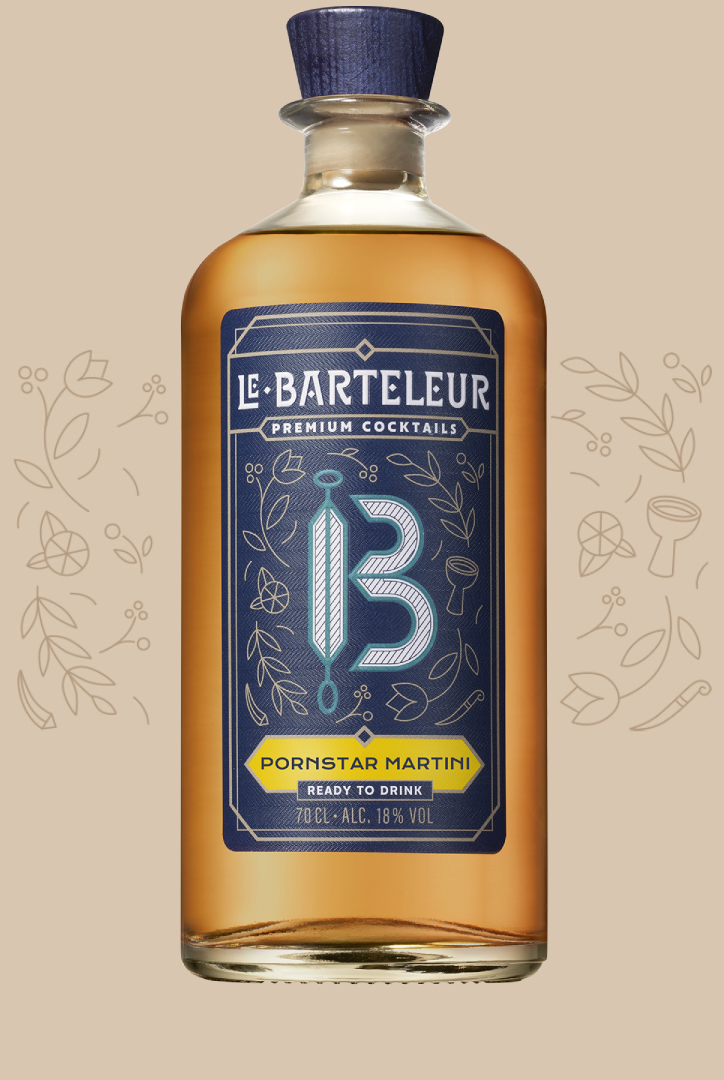 Actually created under the name Maverick Martini, it was Douglas Ankrah, owner of the LAB bar in London, who made this cocktail an international success in the 2000s. Renamed Pornstar Martini by its creator, this delicious drink made with passion fruit immediatelysparked the public's curiosity. Since then, this brazen creation has earned its place among the greats.
LE BARTELEUR pays tribute to this star cocktail of the 2000s which has since been recognised as a great classic. To enhance the exquisite sweetness of its exotic fruits, it caresses the palate with its smooth mango liqueur that opens up floral and peach notes. This fruity cocktail with vanilla notes will take you on an exciting journey.

Baptised in California. When Trader Vic, a figure of tiki culture, offered his two friends from Tahiti a cocktail using several Caribbean rums, refreshed with lime and almond flavours, the "Mai tai roa ae", the "best in the world", was born.
Le BARTELEUR leverages the exotic feel of this cocktail that became all the rage when sipped by Elvis Presley in the movie Blue Hawaii. This flavour specialist boosts the tart freshness of lime with the original taste of yuzu, opening up the palette of citrus with flavours of yellow grapefruit and mandarin.
An exotic voyage with its kumquat and yuzu, together with a golden and vanilla color similar to its dark rum. A fresh and solar pleasure between the acidity of the verjus and the spiced warmth of the rum.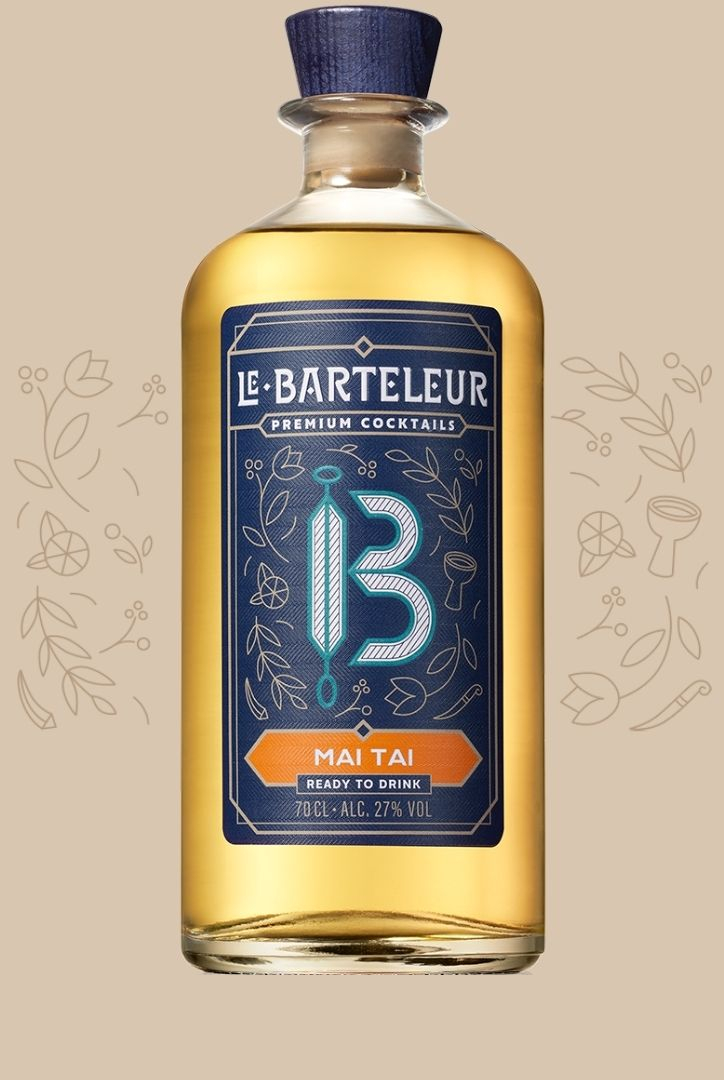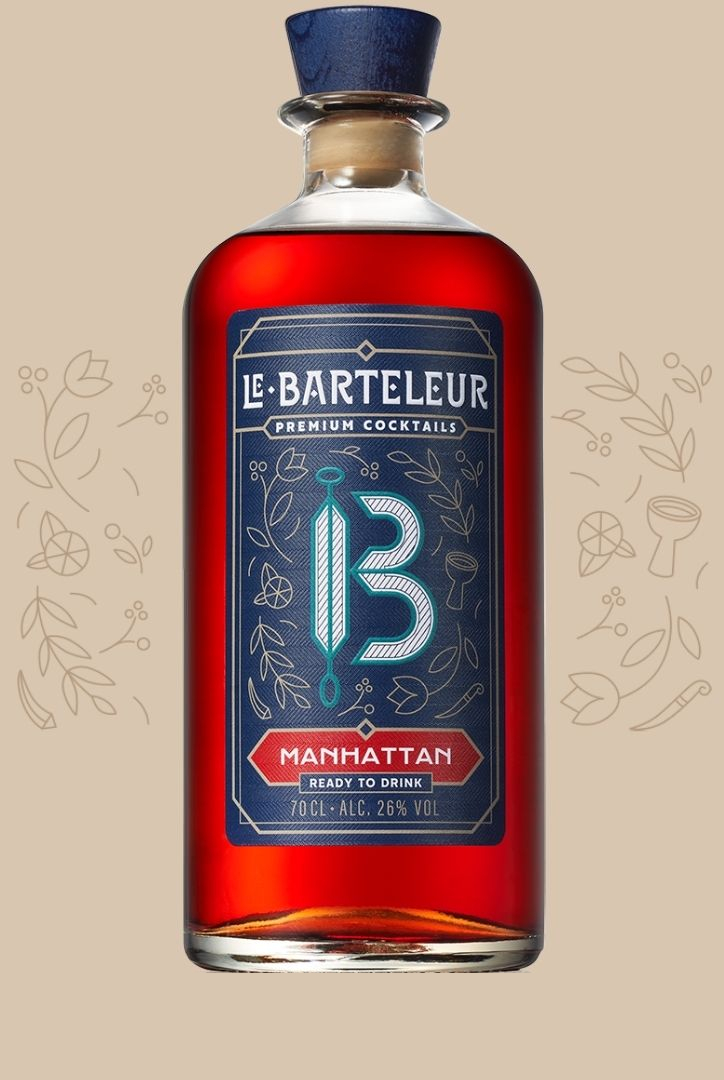 Created for a lady. Prepared during a banquet given by the mother of Winston Churchill at the Manhattan Club. A barman whose name has been forgotten created one of the most appreciated cocktails in New York's high society.
A sophisticated preparation, difficult to create due to the complex mixture of ingredients, it remains one of the greats of the golden age of cocktails.
I pay tribute to this absolute classic that sophisticated and learned men drank from New York to Boston. By the dexterity and skill of sleight of hand, the ingredients are mixed artfully. Rye whisky, red vermouth and our own bitters.
The composition's special feature is a rye whisky with vanilla and honey notes, blended with a red wine bursting with fruits such as raspberry, strawberry and sour cherry. A bouquet of spices prolongs the sensory experience.

Invented on a London night. During the roaring twenties, Ada Coleman, head bartender at the Savoy Hotel, created an iconic cocktail which became an absolute reference for her peers.
The cocktail was created for the actor Charles Hawtrey, who loved it. Hanky Panky was created and made to enchant.
I pay tribute to the legendary beverage that captivated Edwardian England before crossing the pond. Who better than a creative expert of magic tricks to give a twist to this intriguing "potion", giving it a herbaceous and peppery kick?
A wondrous elixir form aromatic gin, blending the freshness of the lemon, mint and liquorice and the sensuality of its ginger. Sandalwood and benzoin will perfume your palate.