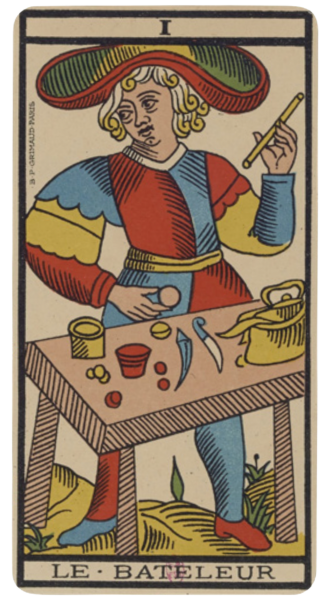 The bateleur, figurehead and first card of the Tarot de Marseille.
I have existed and offered my initiation since ancient times. My name and image have changed over the centuries.
Some called me the alchemist, the illusionist, the travelling magician, the craftsman as I master both liquid and solid materials and flavours.
My dexterity has also created my reputation as a conjurer for my sleight of hand in public and the ease with which I can move things. My keen mind is constantly seeking sensations.
The bateleur evolves. I become the BARTELEUR, a barman at home creator of cocktails.
Today I am the barman, the mixologist, the creator of new combinations. I am behind new flavourful preparations. I launch ideas and convert them into real projects and secret recipes.
Proud and agile behind my counter, I like to mix, measure and play with these alcoholic aromas to create new cocktails. I am an inventor of tastes, a key asst known as LE BARTELEUR, a juggler of flavours.
To serve your pleasure.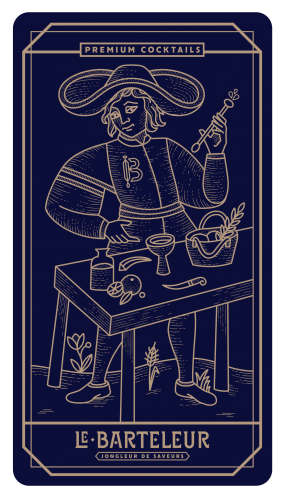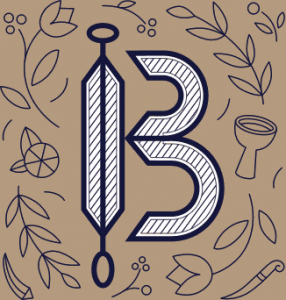 Like the symbolism of the Tarot card images, my B is a strong coded signal to be interpreted on several different levels.
My MONOGRAM.
As stated by its Greek etymology, it means "single letter". It is therefore the first letter of my name, just as I am the first card of the Tarot pack that was built around me.
My key figure.
Going beyond a nod to my origins in Marseille (13 is my département number), it is a figure made up of 1 + 3, and therefore its total is equal to 4, like my values.
It symbolizes the three legs of my table and its stability thanks to the invisible fourth leg. The first three are Strength, Wisdom and Beauty, the fourth is my Spirit.